With Good Basics, You'll Have Endless Options!
In the ever-evolving world of fashion, trends come and go at an astonishing pace. While the fashion industry continually churns out new trends, there are certain timeless items that have stood the test of time. These staples are essential for creating sophisticated, glamorous looks that exude both confidence and style. Whether you're a fashion enthusiast or someone looking to enhance their personal style, these seven must-have wardrobe staples are your ticket to a wardrobe that epitomizes timeless elegance.
In this blog post, we will explore the key pieces that form the backbone of a glamorous wardrobe. By investing in these iconic items, you'll be able to effortlessly create breathtaking outfits that seamlessly transition from casual daytime ensembles to enchanting evening attire. Prepare to discover the power of simplicity and elegance as we guide you through the essential wardrobe staples that will empower you to build a collection of timeless yet glamorous looks.  Let's dive in and unlock the secrets of fashion's most enduring and glamorous pieces.

Every woman needs a little black dress (LBD) in her wardrobe. This versatile piece is a true classic that can be dressed up or down for any occasion. Opt for a well-fitted silhouette that flatters your body type and choose a length that suits your personal style. The LBD is a go-to option for cocktail parties, evening events, or even a sophisticated dinner date.

A well-tailored blazer is a powerful addition to any wardrobe. It instantly adds polish and sophistication to any outfit. Choose a classic color like black, navy, or charcoal gray to maximize versatility. Pair it with jeans for a chic casual look, or layer it over a dress or tailored pants for a more formal ensemble. The blazer's structured silhouette will give you an effortlessly glamorous touch.

A crisp white shirt is a timeless staple that can be dressed up or down with ease. Look for a well-fitted button-down shirt in a high-quality fabric. It can be paired with tailored pants or a pencil skirt for a sophisticated office look, or worn with jeans for a more relaxed yet stylish outfit. The simplicity and elegance of a white shirt make it a must-have in any glamorous wardrobe.

Investing in a pair of high-waisted trousers is a game-changer for achieving a glamorous look. These pants elongate the legs and create a flattering silhouette. Opt for a neutral color like black, navy, or beige to maximize versatility. Pair them with a tucked-in blouse, a statement belt, and heels to create an outfit that oozes timeless elegance.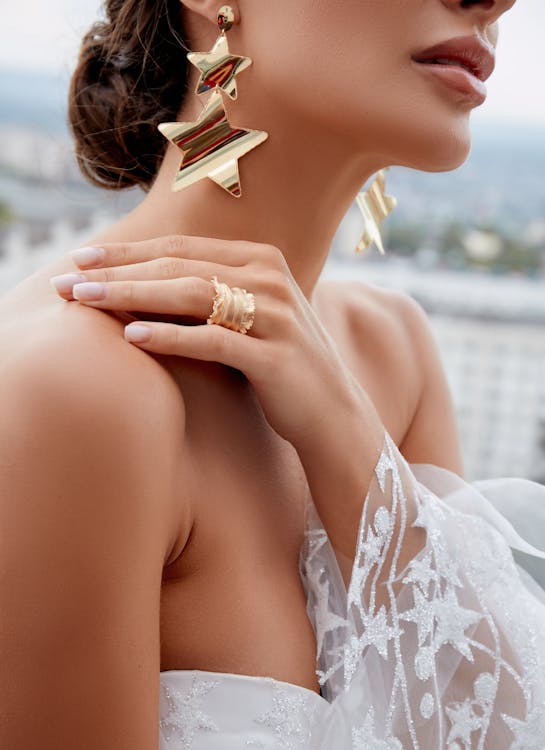 No glamorous outfit is complete without statement accessories. Invest in a few key pieces that will elevate your look and make a lasting impression. A classic handbag in a neutral color, a statement necklace, a pair of oversized sunglasses, and a chic belt can transform any simple outfit into a glamorous ensemble. Choose accessories that reflect your personal style and add a touch of opulence.

To combat chilly weather while maintaining your glamorous aura, invest in timeless outerwear pieces. A tailored trench coat, a sophisticated wool coat, and a classic leather jacket are all excellent options. Choose neutral colors that complement your existing wardrobe, ensuring that your outerwear is as stylish as the rest of your outfit.

No glamorous wardrobe is complete without a collection of classic heels. Invest in a pair of high-quality pumps in a neutral color such as black or nude. These versatile shoes will elevate any outfit, whether it's a formal dress, tailored pants, or even jeans. Look for comfortable yet stylish designs that suit your personal taste and ensure you're ready for any glamorous occasion.
Building a timeless yet glamorous wardrobe is all about selecting key pieces that will stand the test of time. By incorporating these seven wardrobe staples into your collection, you'll have a solid foundation for creating stunning and elegant looks. Remember, it's not just about following trends but creating a personal style that exudes sophistication and glamour. With these essentials, you'll be well on your way to achieving a timeless yet glamorous wardrobe that will never go out of style.
Q1: What does it mean to have a timeless yet glamorous look?
A timeless yet glamorous look refers to a style that transcends trends and remains stylish throughout the years. It combines classic elements with a touch of sophistication and elegance, creating a polished and refined appearance.
Q2: Why is it important to have wardrobe staples?
Wardrobe staples are essential because they form the foundation of your personal style. They are versatile pieces that can be mixed and matched to create various outfits for different occasions. Investing in high-quality staples ensures that you always have a solid base to build upon.
Q3: What are the seven must-have wardrobe staples?
 The seven must-have wardrobe staples to build a timeless yet glamorous look are: Little Black Dress (LBD), Crisp White Shirt, Tailored Blazer, Classic Trench Coat, Well-Fitted Jeans, Neutral-Colored Pumps, Statement Accessories
Q4: Why is the Little Black Dress (LBD) considered a wardrobe staple?
The Little Black Dress is a classic piece that can be dressed up or down for various occasions. Its versatility allows it to transition seamlessly from day to night, making it a must-have for any stylish wardrobe.
Q5: How can a crisp white shirt enhance a timeless yet glamorous look?
 A crisp white shirt is a versatile and sophisticated piece that can be paired with skirts, trousers, or jeans. It exudes elegance and can be styled in countless ways, making it a key element in achieving a timeless yet glamorous look.
Q6: Why is a tailored blazer essential in a wardrobe?
A tailored blazer adds structure and polish to any outfit. It can be paired with dresses, pants, or skirts, instantly elevating the overall look. A well-fitted blazer is a symbol of sophistication and is suitable for both formal and casual occasions.
Q7: How does a classic trench coat contribute to a timeless yet glamorous look?
 A classic trench coat is a timeless outerwear piece that never goes out of style. Its clean lines and elegant silhouette add sophistication to any ensemble. Additionally, a trench coat is functional and versatile, perfect for both rainy and chilly days.
Q8: What makes well-fitted jeans a must-have wardrobe staple?
Well-fitted jeans that flatter your body shape are a staple for a casual yet stylish look. Opt for a classic, dark wash pair that can be dressed up with heels or down with sneakers. They provide comfort and versatility for various occasions.
Q9: Why are neutral-colored pumps recommended as a staple?
 Neutral-colored pumps, such as black or nude, are versatile footwear options that complement almost any outfit. They elongate the legs, add a touch of sophistication, and can be worn with dresses, skirts, or trousers, making them an essential element in a timeless yet glamorous wardrobe.
Q10: How do statement accessories contribute to a glamorous look?
Statement accessories, such as bold necklaces, oversized sunglasses, or statement handbags, can elevate a simple outfit and add a glamorous touch. They serve as focal points, drawing attention and adding a touch of personality to your overall look.